Premium Mycorrhizal Inoculants
What Is Great White® Premium Mycorrhizae?
Microbes are an essential part in successful agriculture. Learn what makes up the superior blend in Great White® and how to best incorporate it into your garden.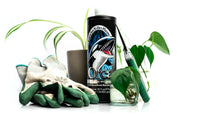 Where to Buy
Having a steady supply of microbes is crucial for successful gardens. Find your local store for all your mycorrhizal needs. 
Where To Buy
This product is absolutely great on the plants throughout every stage. Establishes a good root system, and you really notice the vitality in the plant.

Adam K.
Great White has given my first grow a solid foundation! I will never grow without it.

Brian B.
I hate leaving reviews. I felt like I needed to for this product. It is AMAZING. The roots I saw after a couple weeks is insane. Highly recommended for newbs and seasoned pros.

Rick P.